Who is
Movement for Life?
The A Team
Our practice is built around a model we call "The 3 As." The first is the Ability of our staff. Always professional, our teams practice evidence-based interventions to restore, maintain, and enhance body function. The second is the ease of Access to our clinics. And the third is the amazing Atmosphere we create. We know PT is hard work, but we believe a positive and upbeat environment makes healing more effective. In combination, our "A team" has built a unique situation dedicated to bettering ourselves and the communities we serve.
Employment Benefits
Health, Dental, and Vision Insurance
Paid Time Off
401k Plan
Profit-Sharing
Employee Stock Ownership
Company Paid Life Insurance
Employee-owned since 2015
What began as a small company in 1999, now as employee-owned outpatient clinics in California, Arizona, and North Carolina. We are committed to providing consistent care across our clinics and enhancing the lives of our team members, clients, and communities. The company contributes to each team member's Employee Stock Ownership Plan (ESOP) and participates in Profit Sharing at no cost to the team member. This echoes the value placed on each person within the company and the importance of sharing success.
Private Practice of the Year
We were awarded the 2012 Jane L. Synder National Private Practice of the Year Award. This award was granted annually by the Private Practice Section (PPS) of the American Physical Therapy Association (APTA). It was given to recognize colleagues who have made outstanding and innovative contributions to the physical therapy profession and in support of private practice physical therapy.
Community & equality
We see ourselves as an extension of the physicians in our communities and are always looking for ways to better support their services. Throughout the year, each of the clinics provide time, energy, and proceeds to local causes and events such as the MS Walk, the Heart Walk, Go Red for Women, START!, Miracle Miles for Kids, and many more. Our team also enjoys sponsoring local athletic teams and organizations, and providing community lectures. We are proud to be an equal opportunity workplace. We are committed to equal employment opportunity regardless of race, color, ancestry, religion, sex, national origin, sexual orientation, age, citizenship, marital status, disability, or veteran status. If you have a disability or special need that requires accommodation, please let us know.
View our current openings here.
Physical Therapist Programs
First-Year Mentoring Program
At Movement for Life, we are not only a physical therapy practice but also a company that takes great pride in helping develop our team members. New graduate physical therapists can expect to have a senior clinician as a mentor for their first year of practice. In the first 3 months, you will have dedicated mentor meetings each week as well as a specific patient care schedule to allow you to integrate into full-time patient care with confidence. During mentoring time you and your mentor will work through a curriculum including article reviews, mentored evaluations, observed evaluations, and ongoing discussion on practice areas you or your mentor feel require additional support. You will also participate in education to support your autonomous practice as a therapist, with topics including the healthcare landscape, revenue cycle and billing, as well as customer service training.
Residency Program
The Movement for Life Team has partnered with the University of Southern California to create an exceptional Orthopedic Residency Program. Accelerate your professional development and work in a collaborative and engaging environment. Receive an excellent salary and benefits package as you gain advanced knowledge and skills in orthopedic physical therapy. This program combines expertise from one of the premier Physical Therapy programs in the country with our local team of Board Certified Orthopedic Clinical Specialists (OCS). The Residency is a 12-month program.
Recent program outcomes: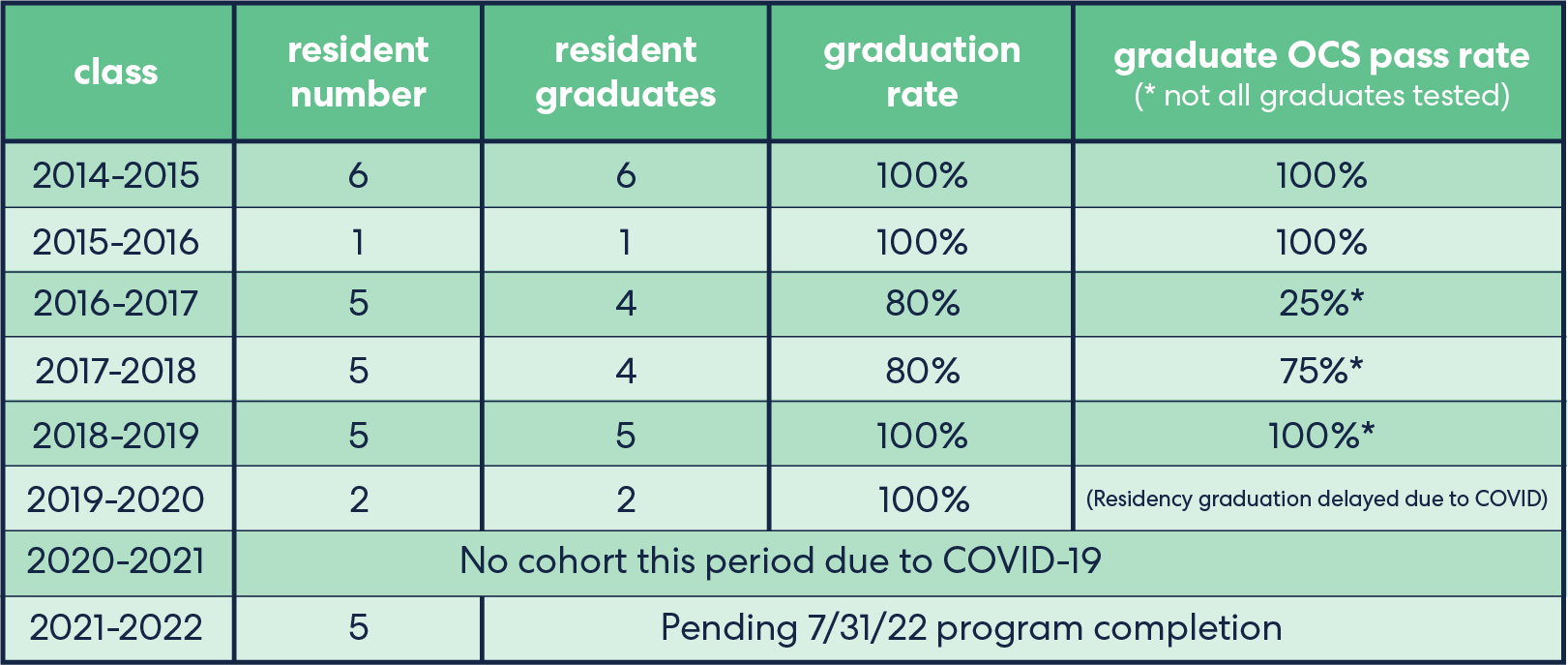 Continuing Education
1-3 in-house continuing education courses/year offered, outside course tuition based on Director's discretion. Also offering free, unlimited quality continuing education courses through MedBridge Clinical Development Committee reviews potential of amazing new courses.
Director Track Program
The Movement for Life team is seeking self-motivated, enthusiastic, and entrepreneurial physical therapists looking for a worthwhile career with rewarding opportunities to run their own clinic in the future. We host a comprehensive 12-month training program for future clinic directors. Learn what you need to know to successfully open and run your own clinic! You are eligible to begin the Movement for Life Director Track Program after completing the Mentoring Program.
Physical Therapy Specializations
Concussion: Our education in Concussion management includes both internal and external training including the ImPACT Trained Physical Therapist (ITPT) certification
Parkinson's: We have both LSVT and PWR! Certified therapists who have implemented neuroplasticity principled exercise programs targeted at slowing the progression of Parkinson's and increasing quality of life. We also use boxing techniques within treatment and wellness programs for patients with Parkinson's Disease.
Vestibular: Our vestibular program includes online education, mentoring, and course work. Attendees are expected to spend 40 observation hours with a vestibular specialist and attend the Emory University Vestibular Rehabilitation Competency-Based Course for certification.
Additional specialization: If you have other specializations that interest you, let us know. We have additional programs and we are open to starting more. We also host 1-3 in-house courses each year based on staff input, past feedback and new programs. All clinical team members have company-paid memberships to MedBridge for unlimited continuing education and CEU credit. Our Clinic Director Committee creates specific knowledge tracks within MedBridge targeted to clinical needs and team interests.
View our current openings here.